It's been two years since the last post we wrote. A long time if … The truth is that after giving your donations to the survivors of Langtang and leaving all the sponsors and aid to families on the right track, we felt that in 2017 a cycle was closing for us and we could already focus a little on recover stability in our own private life, which we had abandoned since the disaster.
This does not mean that we have left the aid activities to Langtang, on the contrary we are still very immersed in the subject with new projects that we will explain later; But we did stop updating the information on the web as it took up a lot of time that we needed for other important things.
The association was very useful for that first moment of crisis, after the 2015 earthquake. It served as a platform to contact many people who wanted to help us in many different ways, and we coordinated those helps in the best possible way. Thanks to all these wonderful people, Langtang recovered in a short time and the survivors had new homes to take refuge in during the winter and were able to resume their daily activities. The tourist circuit was reopened the year after the catastrophe and today they are perfectly prepared to welcome tourists again.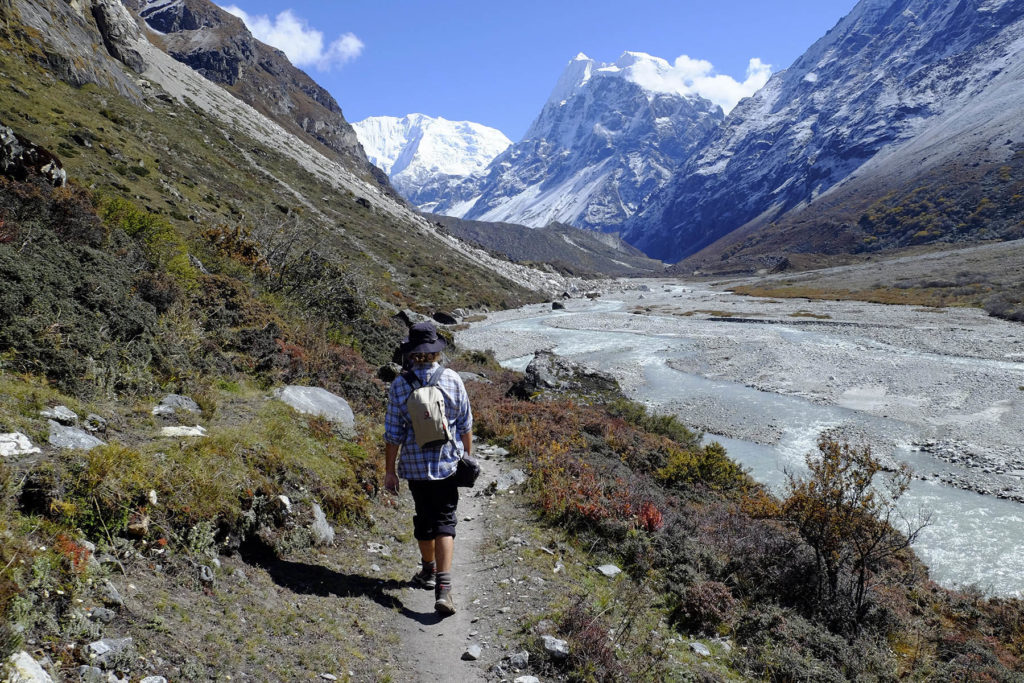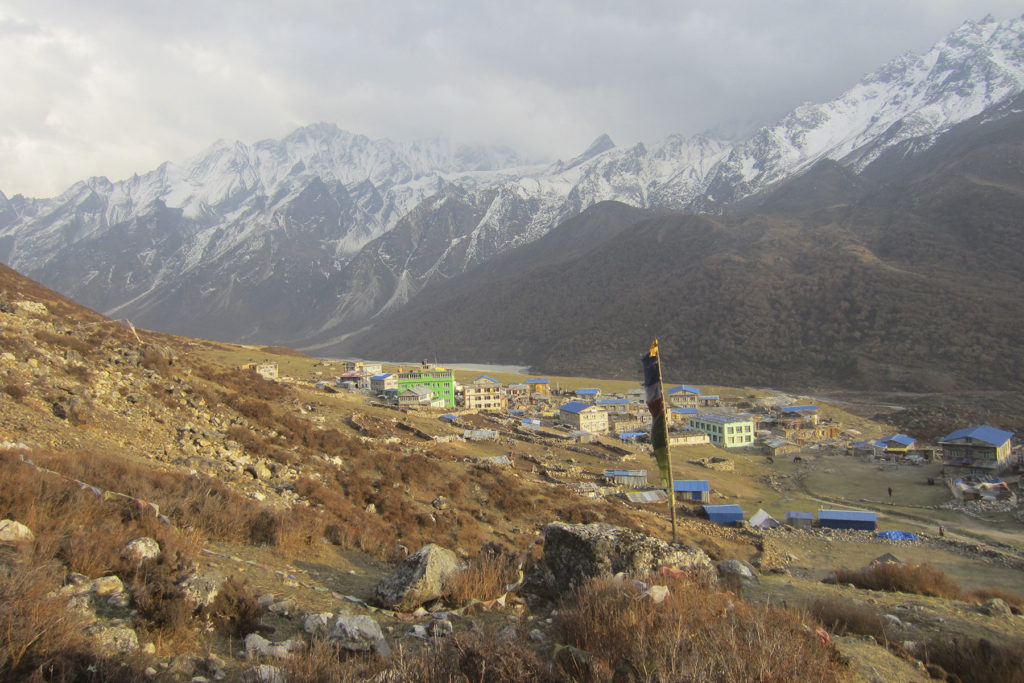 Now we have been trying to leave that tragedy behind for a long time and work together to move forward, although we know that the psychological consequences are a separate issue … I recently had an online group meeting Langtang Missing and Found to Kitty Heldwoman. We were around 35 people among survivors and relatives of the disappeared. Each one could talk for a few minutes about what they lived through in these years and we shared the different ways of overcoming the loss or at least coping with it in order to continue with your life. I think it helped us all to be able to talk about it with people who could understand us and listening to others you realize how it affects pain equally despite being all of different nationalities and cultures. Although it was hard to relive the pain, when I finished I felt a great comfort and I thank Kitty and everyone else for this opportunity on the 5th anniversary of the tragedy.
Personally I always remember my mother and grandmother, much more now that I have a daughter. Yes, one of the important things that has kept me busy during 2018 and 2019 has been my daughter Tshering, a wonderful gift of life and an example of pure happiness. I learn a lot from it every day and it gives me a lot of strength.
In January 2019 we celebrated his first birthday in Nepal with my family, and in January 2020 we celebrated his second birthday by going up to Langtang. We had a great time, especially the little girl who went crazy with the yaks and with the snow, but especially with her meme Nima and some children her age that she met there and with whom she seemed to know each other from a lifetime.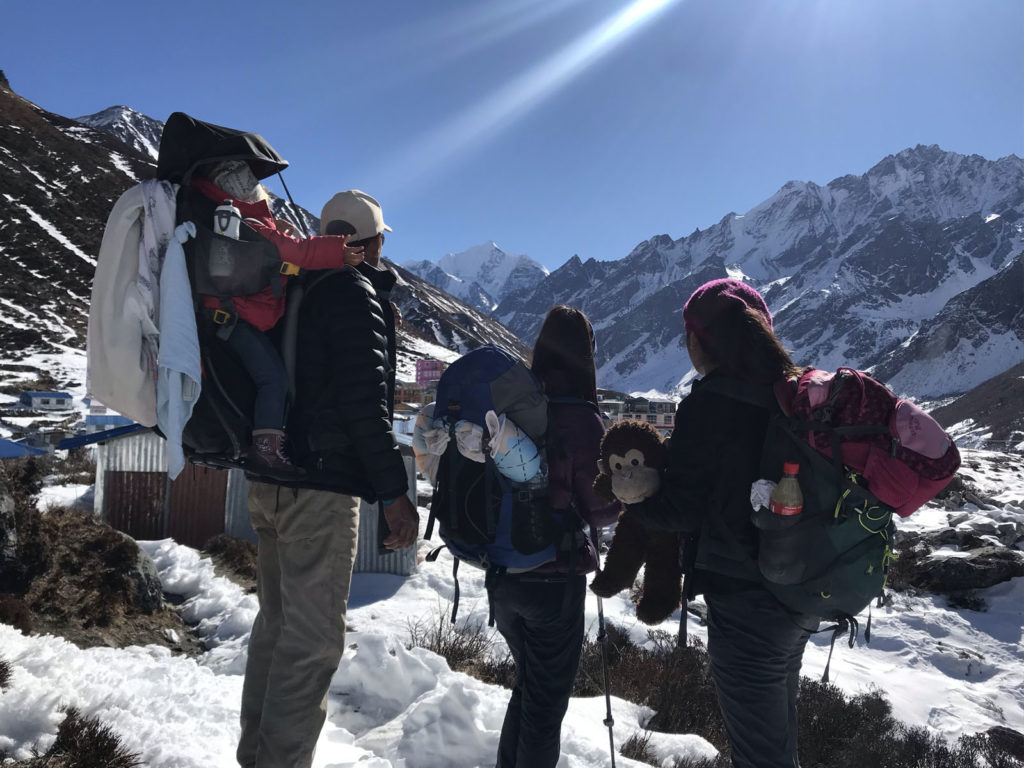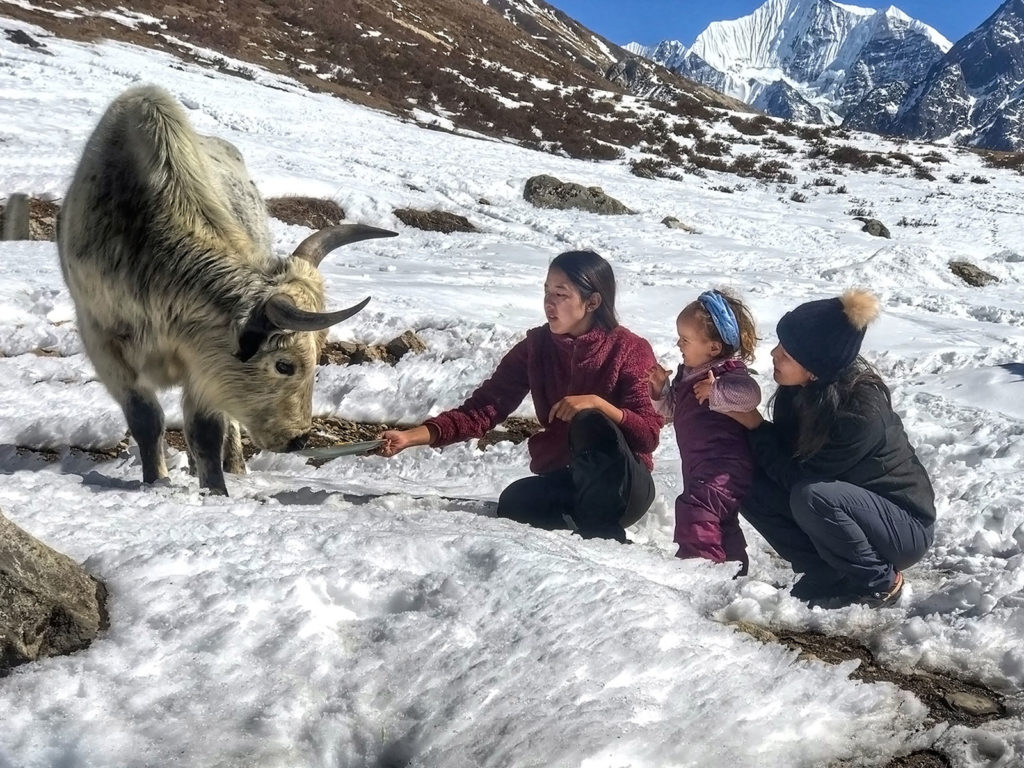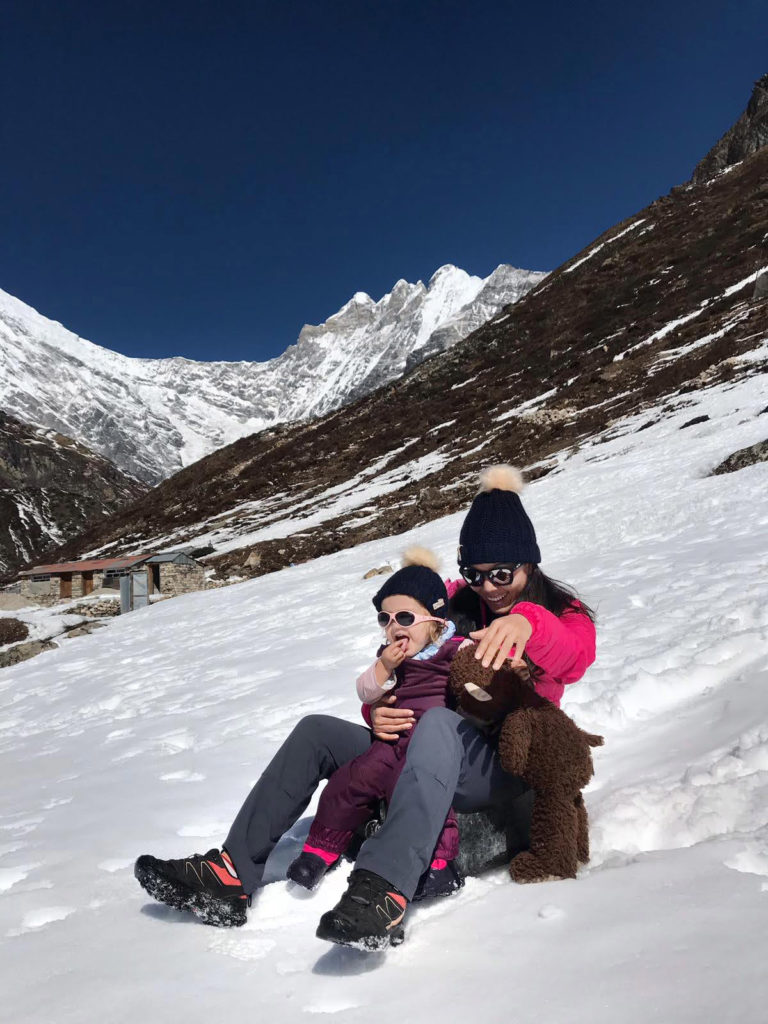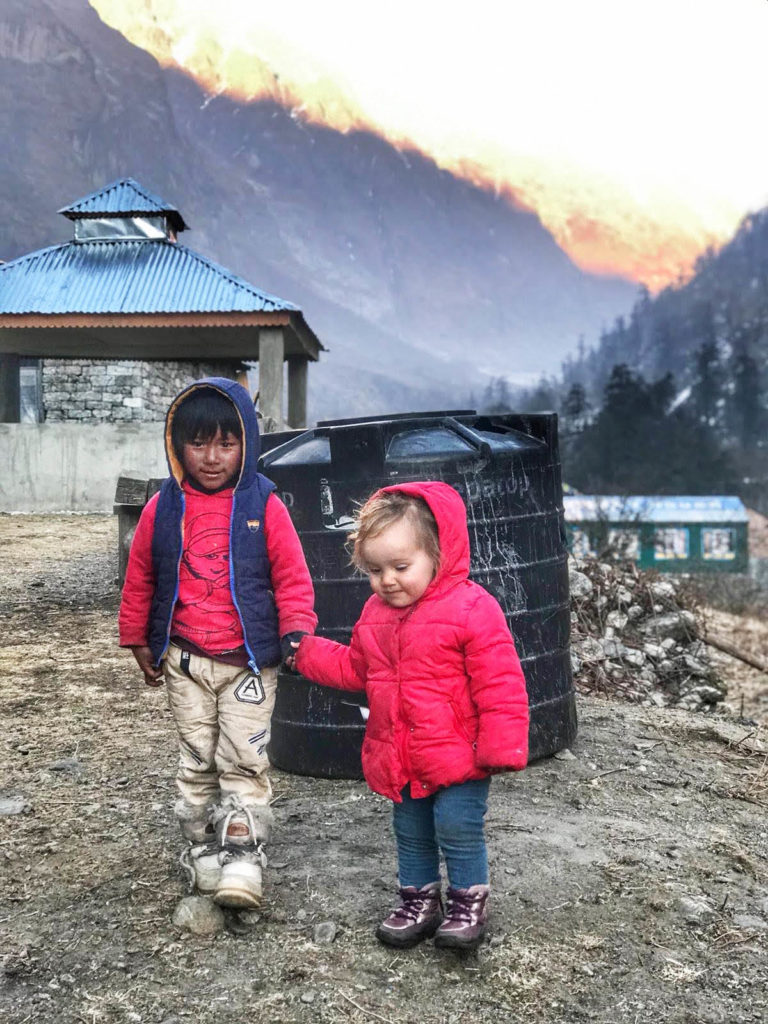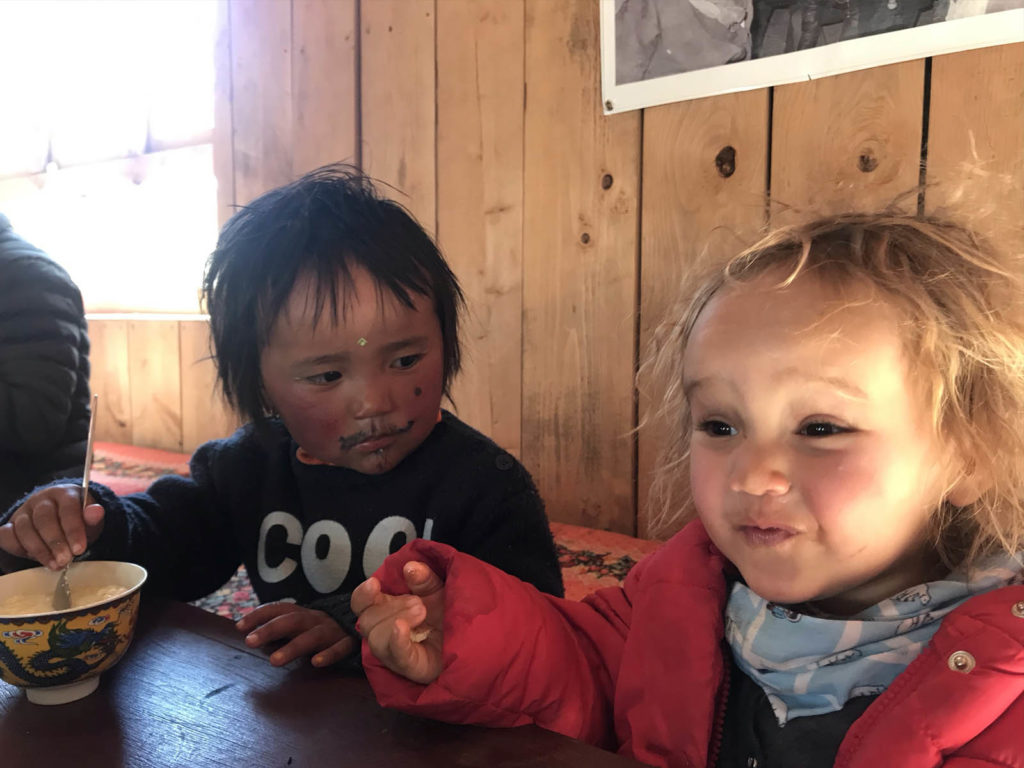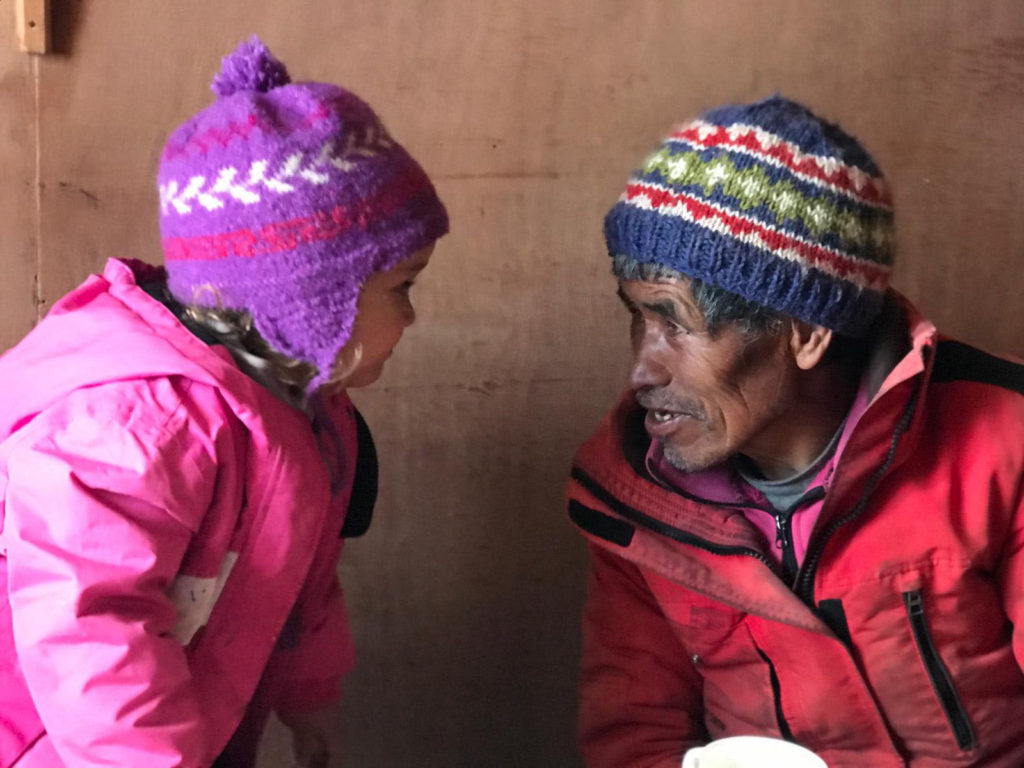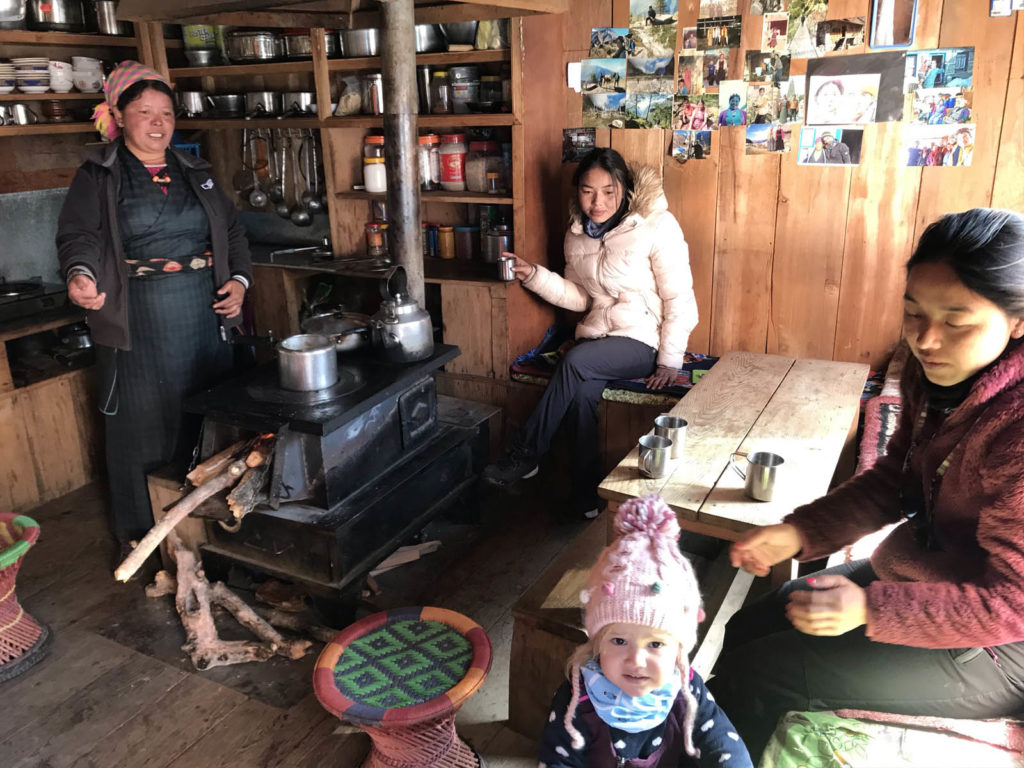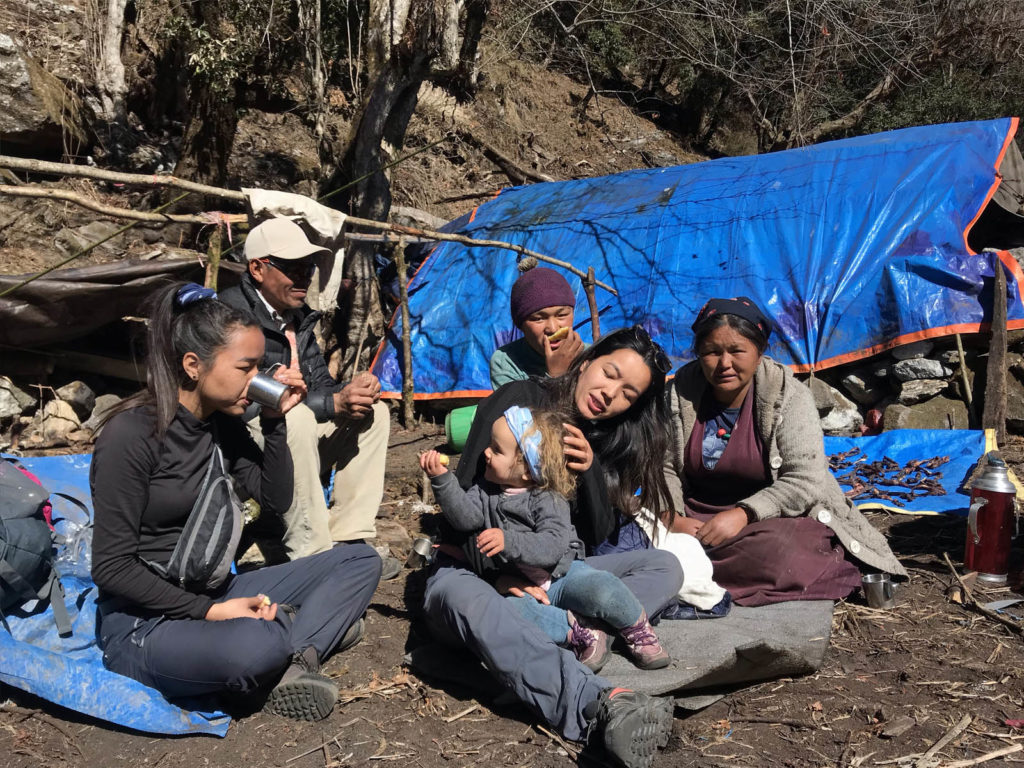 I remember my mother so much right now … it would be so beautiful … I put Tshering on my daughter as a tribute to her.
When I talk to my family and friends in Langtang we always have time to talk about our missing. I don't think we will ever forget …, but as time goes by I remember more and more the happy moments and especially the life teachings they gave me.
But as I said before, we must go ahead and we think that the Langtang Disaster Relief Fund association has already done its job and should give way to something else. That name was chosen by the Langtang survivors when we joined them at the Yellow Gumpa refugee camp.
But now Langtang is no longer a disaster, but it is once again a welcoming town of Tibetan Buddhist tradition where the traveler will feel at home.
MENDO FAMILY & NEW PROJECTS:
Of course, there are still many things to do to help the development of the community, and there are many humble people, especially the elderly, who live difficult situations and struggle day by day to survive in the mountains. To take care of these new projects calmly and with projection over time, we have created the Mendo Family Foundation, an NGO that, for legal and logistical reasons, this time is based in Nepal.
1- First aid for the elderly:
On November 16, 2019 we met again in Langtang with our Italian family of Julè & Namasté to carry out a new project that we had been developing for quite some time. What a joy to see them again in action!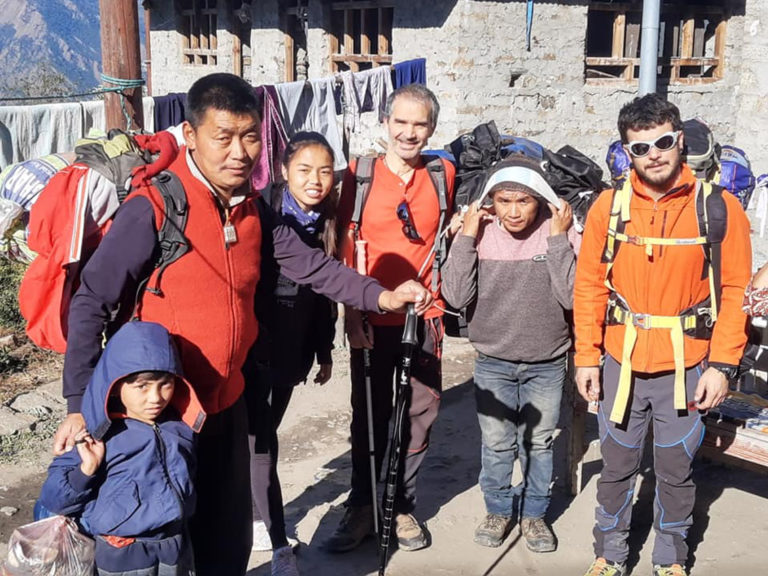 This time it is direct help to needy elderly people who were left homeless after the 2015 earthquake. Before the earthquake, care for the elderly was guaranteed by families and the community. But now many have been neglected as a result of the death of their immediate relatives and the emigration of children and grandchildren to Kathmandu or out of Nepal to seek life. These people are mostly Tibetan exiles accustomed to mountain life and would not know how to live anywhere else. After the earthquake, these elderly survivors used some of the materials that remained from their destroyed villages to build precarious lodgings where they continue to live today with their animals and work the land, despite their advanced age. It is a very hard life, especially in the winter months with snow and frost, but it is the only way they know …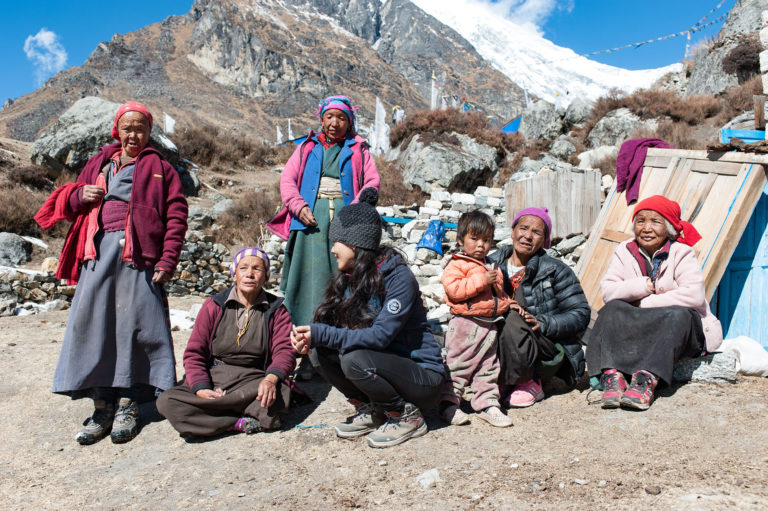 In February 2019 Choenyi and Valen (from the Mendo Family Foundation) approached the different areas where these elderly people live and interviewed them one by one in their small cabins to assess their situation and find out what needs they had. They are our elders and they know us from all their lives, so they opened up without problems to explain to us everything they were experiencing and their difficulties. Most of them especially needed food, firewood and water, some needed mattresses and blankets, or clothes, or cooking utensils, even arrangements on their roofs to pass the rainy season without humidity … Many also told us about their feeling of loneliness and abandonment. Some explained to us that they felt humiliated when asking for help from the neighbors, that due to lack of education or because they also had needs, they treated them as if they were annoying beggars instead of respecting them as their elders.
In order to carry out these grants, the idea is that every 2 months we will load the donkeys in SyabruBesi with everything necessary and we approach the different settlements throughout the Langtang area to visit cabin by cabin to all the elderly in need.
It will be a cast of several days and we will take the opportunity to speak again with the elderly and take note of the new needs that may have arisen, and we will also be able to assess the state of health of the elderly. In case of major illnesses, transportation to Kathmandu can be arranged and in case of minor problems we can accompany you to the town of Mundu where an Australian NGO carries out basic health care activities for locals and tourists.
We have had 3 deliveries in the last 6 months and everything works very well.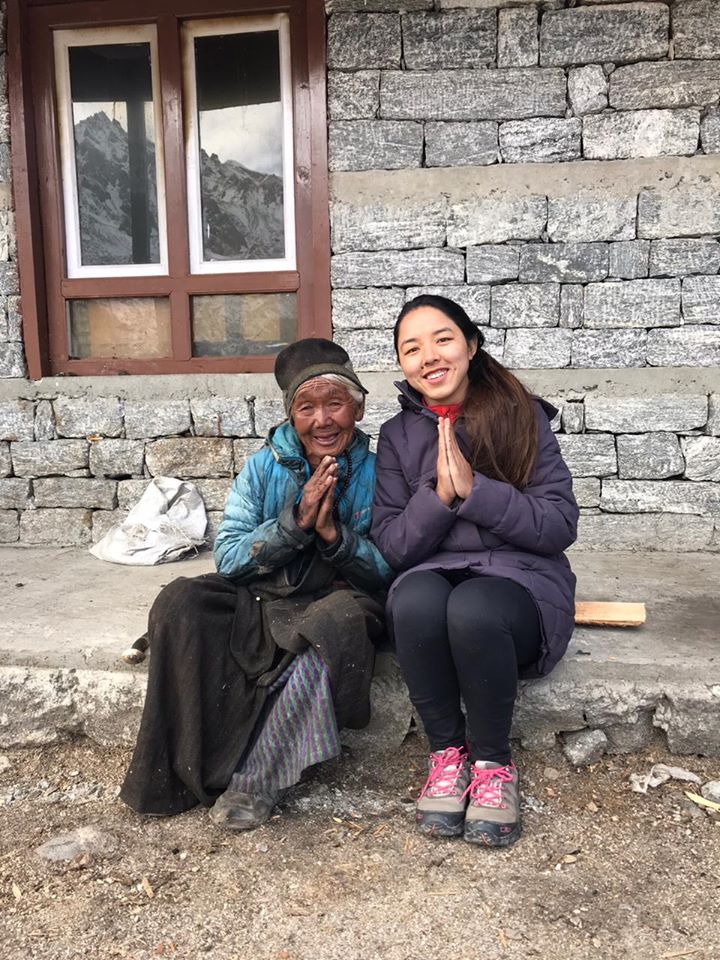 It is very important that the members of Julè & Namasté come every year in person to be able to speak directly with the elderly and see that the objectives are being met. It never ceases to amaze me how people who live so far come to help us with that love and generosity. Many thanks again to Luciano, Fabio and all the components of this beautiful Bolzano organization, because we know what it costs and how much we have to move to get the necessary funds to carry out these projects.
Together we can continue helping so that the humblest people live with dignity. That they do not have to worry at their age if they are going to lack food or a mattress to sleep … Help them to live better, but in a way that respects their traditional way of doing things, helping them to feel proud of their lifestyle and not lose their identity.
We think that you have to be careful when offering aid, since if it is not done well, a lot of dependencies can be created. So in this case we only want to help those most in need who have no chance to develop on their own. Young people can continually reinvent themselves, have the opportunity to work in tourism, or try their luck in Kathmandu, even outside Nepal. In contrast, older people only know the mountains, their animals and the land. They no longer have the energy to do many things, and at that age, even a small task becomes strenuous.
If someone wants to examine the project more thoroughly, you can download the PDF from Julè & Namasté.
2- Construction of the house for Pemba:

His name is Pemba Choeden, he is 37 years old and lives in Mundu, in the Langtang area.
An earthquake in 2013 took her husband. She managed to rebuild the humble house where she lived with her 6 children and mother, but during the 2015 earthquake she lost her mother and sister, in addition to destroying her home again. Now her children study in Kathmandu with the help of foreign sponsors, and Pemba is raising her sister's children.
Julè & Namasté are going to finance the construction of their new earthquake-proof house with several rooms to be able to receive tourists and thus have an extra entrance of money.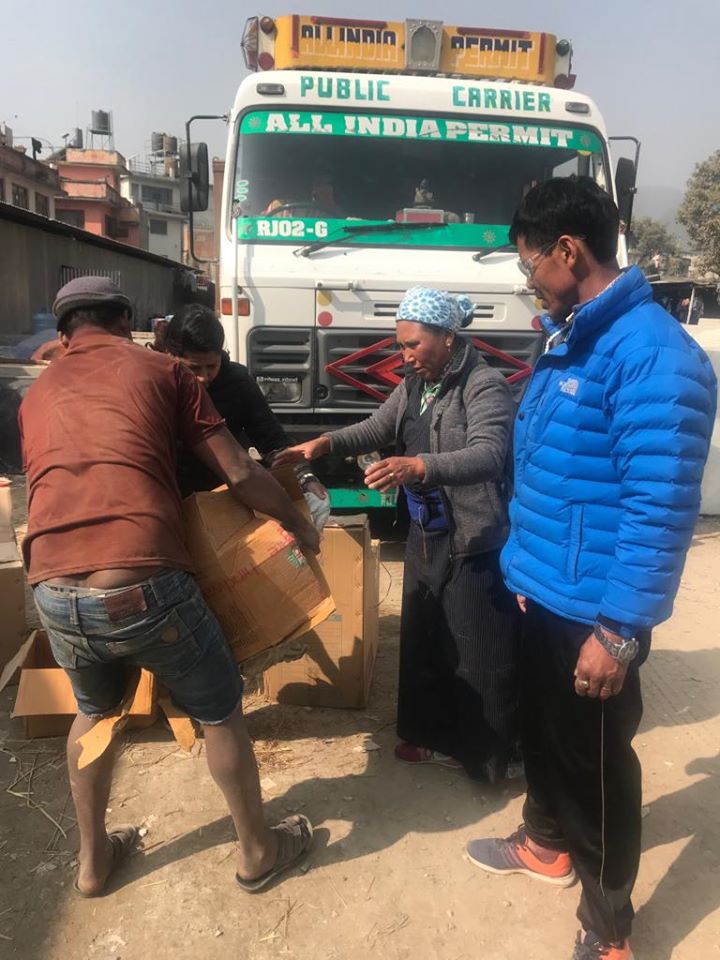 The work was to start in 2019, but Pemba had an emergency operation and had to be postponed until this year 2020, and now due to the isolation due to the Coronavirus, the workers have not been able to go up to Kyangin Gumpa to start the work. But all the materials are already up and as soon as the possibility exists it will be realized.
Thanks again to our Italian friends without whom we could not carry out these projects.
In Spain we will maintain the Langtang Disaster Relief Fund as an information base to find out who we are, where we come from and everything we have done so far, and the association will continue to be active on logistics issues, as there are still people who contact us through the website and we need to manage those actions from here.
We continue working and developing new projects to be implemented in the near future. As soon as we have the Mendo Family Foundation website operational we will keep you informed of any important news.