All started with Langtang Disaster Relief Fund, an association created after the 2015 earthquake in Nepal to help the survivors of Langtang, our village in the Himalayas, which almost completely disappeared under a devastating avalanche of ice and rocks taking many lives in its wake.
The association was very useful in that first moment of crisis. It served us as a platform to contact many people and coordinate many aids… Thanks to all those people and NGOs who helped us, Langtang recovered in a short time and the tourist circuit was reopened the following year after the disaster.
Today Langtang is once again a welcoming village of Tibetan Buddhist tradition where the traveler will feel at home.
We are very proud of all that we have achieved during these years through the association, but we know that there are still many things to do to help the development of the community, and there are many humble people living difficult situations and struggling day by day to survive in the mountains.
In order to attend to these new projects with calm and projection over time we have created Mendo Family Foundation, an NGO that for legal and logistical reasons this time is based in Nepal.
From Mendo Family we want to leave behind all the tragedy we have lived through and face the future with hope and optimism.
In Spain, we will keep the Langtang Disaster Relief Fund association active for some time due to logistics issues. There are still people who contact us through the web and we need to manage some specific actions through an association based in Spain. It is also useful for anyone interested to see where we come from and the actions we have done so far.
I was born in Nepal in 1991 and am the oldest of 7 children. I grew up in Langtang, surrounded by animals and big mountains.
At the age of 8 I moved to Kathmandu to study thanks to a German couple who sponsored me, and there I finished my higher studies in Biology.
In 2011 I met my future husband in Langtang, and a year later we went together to Spain, where I was able to study Tourism as well as learn Spanish. Currently I work as a receptionist in a hotel on the Costa del Sol.
In 2015 I created an association, Langtang Disaster Relief Fund, to help the survivors of Langtang after an earthquake that devastated my entire village. Today we have also created an NGO in Nepal called Mendo Family Foundation and we continue to help the most needy in the area, especially the elderly without resources.
I feel that we are doing important work and we are giving hope to many people who had lost it. As long as we can, we will continue working to improve the lives of my people by developing the area of Langtang, but always in a sustainable way and respecting our way of life.
I was born in Barcelona in 1976. I am an illustrator and have spent the last 15 years working in advertising. It's a pretty stressful profession, so at one point I felt the need to give myself a break. I have always liked the mountains, so when in 2010 someone told me about Nepal I thought it was the perfect occasion and I didn't think twice.
I spent almost 5 months touring Nepal. I walked a lot in incredible places and every day I felt better physically and mentally. Getting out of your daily routines clears the mind and fires the imagination.
It was an incredible trip, very intense, full of contrasts that made me think a lot, and in a way I think that first big trip changed my priorities.
Before continuing my journey through India I took a few days to go to Langtang and there I met Pasang. He offered me a cup of tea and when I opened my eyes we were both in Spain and had gotten married. Can you believe it?
Well, it really wasn't that easy, it has been a difficult road from the beginning, and the earthquake of 2015 left us devastated? We didn't know what we could do, but we knew we had to help anyway. At that time, the Langtang Disaster Relief Fund was created, an association to manage any kind of aid for the people of Pasang, and since then we have never stopped supporting development in the Langtang area.
In 2018 we had a beautiful daughter named Tshering, in honor of Pasang's mother who disappeared during the earthquake.
To carry out the activities that we propose we count at all times with my family in Nepal and very close people of total confidence.
Nobody better than them who know everyone in the area, know the needs of each and can solve any setback that arises.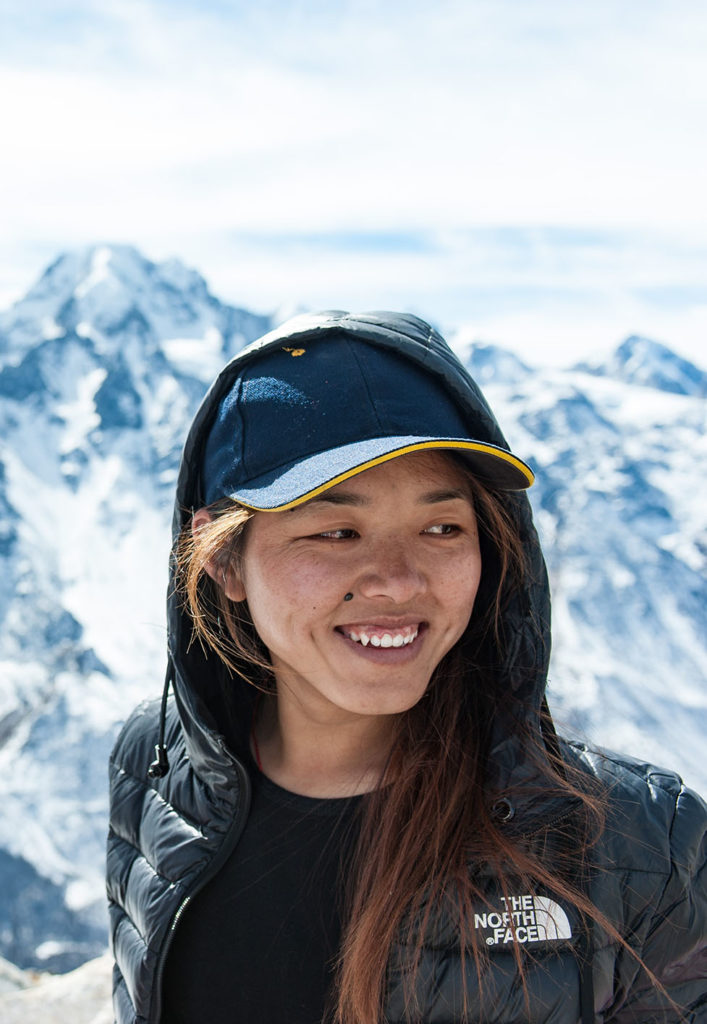 Hello, I am Choenyi. I was born in Langtang, a small village in the Himalayas.
I have always been a country girl, taking care of the animals, helping my parents in the garden and taking care of my brothers. Thanks to some sponsors I was able to study in Kathmandu, learn English and get to know the life in the city.
But I really feel better when I go back to the mountains, so I have done the mountain guide course and I accompany tourists to any area of Nepal they want to visit.
I think that apart from helping in humanitarian work, it is also important to attract tourism to the area and make our wonderful Langtang known to the world.
I feel a great pride in the way of being and the traditions of my Tibetan ancestors, and when I am accompanying tourists through our lands I always try to explain to them what each of the things they see during the trip means and make them curious. I think that a trip is more real and closer when you can understand what is happening around you and have the possibility to interact with the local people.
In our family we have always been very poor, so now I feel a great pride in being able to help many people in need by giving them the same opportunity they gave us. My mother would be very proud of what we are doing in our village.
My parents came from Tibet and settled in the Langtang valley, where they created their villages and crops among beautiful mountains. We have always lived quite isolated, with our own language and Buddhist traditions…
One day tourists started to arrive and we welcomed them into our homes.
During all these years I have created bonds of friendship with tourists from all over the world, and whenever they come back I feel very happy to go for a walk with them again.
Thanks to them, our seven children have been able to study in the city and prepare for a future different from ours, although I recognize that it makes me very happy when they return to Langtang during their vacations.
The earthquake of 2015 was a hard blow for us, I thought it was all over when I saw so many dead friends and family around me… My wife, my brother, grandmother, my neighbors and their children… I didn't think we could ever recover from this tragedy.
But thanks to Pasang and the rest of my children, we have managed to get by and they have given me their strength and confidence.
I feel very proud of the work we are doing together and I am happy to be able to help our neighbors and friends.
In 2018 we finally managed to rebuild our home as well and we have named it the Mendo Family Guest House, in honor of my wife Tshering Mendo.
You are always welcome in our home.