Developing activities in the Langtang area since 2015.
This area was the first in the Himalayas to be designated as a National Park in 1971. It is a beautiful place surrounded by forests, flowing rivers, glaciers and impressive snow-capped mountains.
The whole area was very affected after the earthquake that devastated Nepal in April 2015, but especially the village of Langtang, which disappeared almost completely under a devastating avalanche of ice and rocks taking many lives in its wake.
At that time we created Langtang Disaster Relief Fund, an association that served as a platform to contact many people who wanted to help and to coordinate this aid in the best possible way. Thanks to all these wonderful people, Langtang recovered in a short time and the survivors had new homes in which to take refuge during the winter and were able to resume their daily activities.
The tourist circuit was reopened the year after the disaster and today they are perfectly prepared to welcome tourists again.
But of course there are still many things to do to help the development of the community, and there are many humble people, especially the elderly and single women, who live in difficult situations and struggle every day to survive in the mountains.
To attend to these new projects with calm and projection in time we have created the Mendo Family Foundation, an NGO that for legal and logistical reasons this time is based in Nepal.
THANK YOU VERY MUCH FOR HELPING US TO CONTINUE THESE DIRECT AID PROJECTS IN LANGTANG.
Basic help to elderly people who have been left alone and without resources.
This time it is direct aid to needy elderly people who were left homeless after the earthquake of 2015. Many have been neglected as a result of the death of their immediate family or the migration of children and grandchildren to Kathmandu or outside Nepal to seek their lives.
After the earthquake, these elderly survivors used some of the materials left over from their destroyed villages to build precarious shelters where they still live today with their animals and work the land, despite their advanced age. It is a very hard life, especially in the winter months with the snow and frost, but it is the only way they know.
Thanks to the incredible help and funding provided by our Italian friends at Julè & Namasté (with whom we have been collaborating since 2017), we are able to tackle this new and much needed project in the area.
In February 2019 Choenyi and Valen (from the Mendo Family Foundation) went to the different areas where these elderly people live and interviewed them one by one in their small huts to assess their situation and find out what their needs were (you can watch the video). They are our elders and have known us all our lives, so they opened up without any problems to explain everything they were experiencing and their difficulties.
Most of them needed food, firewood and water, some needed mattresses and blankets, or clothes, or cooking utensils, even arrangements on their roofs to get through the rainy season without humidity.
Many also told us about their feelings of loneliness and abandonment.
In November 2019 the members of Julé and Namaste were able to come from Italy to inaugurate the project. We bought all the material and brought it up with donkeys to distribute it among the 40 designated elders. It worked very well and from then on, every two months my sisters Choenyi and Tsewang took turns with my father Nima so that they never lacked anything, even during their isolation by the COVID.
As you can see in the video, many elderly people suffer from partial blindness and deafness, apart from many other bone and joint ailments typical of old age, but despite all these difficulties they do not want to leave their way of life to go and live together in a "nursing home". That's why we have put a man from Langtang who didn't have a job to cook for them every day and help them with some daily tasks…
The old people are responding very positively and they send us their gratitude every time we go. You can see more details of all the actions we carry out in our Blog.

We hope to continue with this project for a long time, especially so that no more misfortunes occur like the one in September 2020 when Meme Norsang, 85 years old, could not stand it anymore and took his own life in the river.
Being from Langtang and having grown up in the Himalayas of Nepal, I can say first hand that there is a mental health problem among the mountain people. Some people go through difficult times and suffer from problems of frustration and depression, especially after an event like the one in Langtang. Most find comfort in religion (there are no psychologists here), but some simply don't have the strength to keep fighting alone.
It helps pay for the studies of children without possibilities to have a alternative life.
Education is very important to get out of poverty, especially in the mountains where normally there is a survival economy that does not give families the possibility to save enough for their children to study and they must learn to live off the land and the animals at a very early age. The work in the field is worthy and very important, but we want to give these children the possibility to study and choose a different future.
I was sponsored by a German couple, and so I know perfectly well how my life changed radically for the better, becoming part of their family. Also thanks to the sponsors my siblings have been able to study and in one generation we are coming out of poverty and have the possibility to choose our own path.
During the vacations the children usually return to their mountain villages with their parents and during the short vacations their parents often come to Kathmandu to be with them.
After finishing their studies some decide to return to the mountain life, but with a different perspective and the possibility of developing new projects in the area, as well as continuing with the more traditional family work.
If you decide to sponsor, it is very important to do so until you finish your higher education (up to 18 years old), just before the university.
When a child goes to study he leaves behind his life in the mountains with his family to start a new and totally different life in a boarding school in the city, where they speak another language and must adapt to many new rules of living together. It is a big change and many find it difficult to adapt. It is not fair that a child should have to abandon his studies in half after making this great effort because his sponsor has decided to stop paying for his education.

It is also important to try to maintain a close relationship with the child. Nowadays it is easier to do this through the internet, since from a certain age children already speak English and can deal directly with their sponsor.
And if given the opportunity, it is highly recommended to come to Nepal to meet in person and spend time together. It is the best way to create bonds of love and trust.
For me Thea became my second mother and I explained to her everything that was happening to me as I grew up and she helped me with my personal problems, giving me a very important, much more open view, which helped me a lot to understand life beyond Nepal and our customs. And for her part, Thea always told me that I was like her daughter to her, and that I have contributed a lot to her life.
Process for sponsoring a Langtang child
Contact us so we can help you with the process.
We will put you in direct contact with the chosen child and his/her family.
We will put you in touch with the person in charge of the child's school. They will tell you what the monthly fees are and where you should make the deposit.
School fees per month can be around 110 This includes food, lodging and education. The child will be in a hostel with many other children, where they are looked after by the local teachers and their assistants.
The first month is a little more expensive than the rest, since you have to pay an admission fee. This is a deposit of money that the school keeps, but which will be returned when they finish school.
There are also extra charges each year, such as school uniform, medical expenses, stationery (books, pencils, etc). This will be approximately 150 euros per year.
You will receive your child's academic progress report along with a letter written by your child twice a year. You can also request personalized information about the child from the teachers.
You can always get in touch with the child, his family and the school.
Whenever you need something we will be here to help. You can contact us at any time.
Table of prices of a school in Nepal (around 1,500 euros/year).
  Marshyangdy Boarding High School (price in Nepali Rupees)
Registration/deposit ……….. 5.000
Annual Charge ………………. 13.600
Monthly Fees ………………… 92.000
Stationaires ……………………. 9.000
Uniforms/Hostel dress ……. 5.000
Extra tuition/SLC …………… 25.000
TOTAL FEES FOR A YEAR – 149,600 NRs. 
Training courses to enable women to enter the labour market.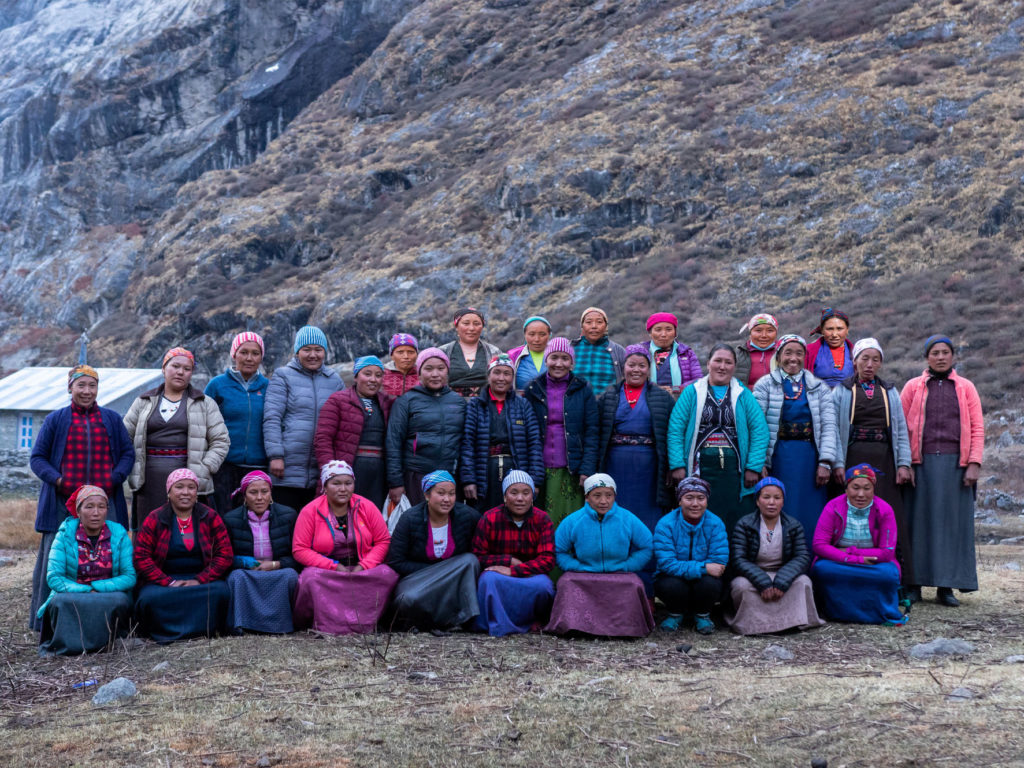 We want to support the women of Langtang by doing different workshops so that they have more possibilities in the world of work.
English courses to be able to deal with tourists directly.
Mountain training to be able to accompany the expeditions as porters or assistants of the main guide. It is about learning how to handle climbing materials or to act in emergency situations and to know how to practice first aid, etc.
Cooking courses, especially baking and pastry to be able to implement new recipes in their guest houses or homestay.
These courses would be given by professionals of each specialty, some in Kathmandu and others directly in Langtang.
Nepal is a country where the woman is totally dependent on her husband. In rural and mountain areas even more, since they only have the possibility of working at home or in the field and these are unpaid jobs.
Despite the fact that the new Constitution of Nepal (adopted in 2015) abolished many of the discriminatory practices against women, the reality is that the tradition is still imposed on the existing law.
Women have no possibility of inheriting land when their parents die, not even have the right to family housing when the husband dies, can not have any property, everything always passes to the hands of brothers or sons.
Many young girls from humble families are forced from a very young age to work in the homes of rich families or in the fields, unable to break out of the cycle of poverty, waiting to get married to go and serve in the house of their husband's family.
They are strong and well adapted to the mountains, and if they really want it, they deserve a chance in this sector.
From Mendo Family we want to contribute to the women having the opportunity to manage their economy and having some chance to make their life independent in case they need it. They have the right to freely choose their future and we will work with them to give them more tools.
Rebuilding homes for people without resources who lost everything in the earthquake.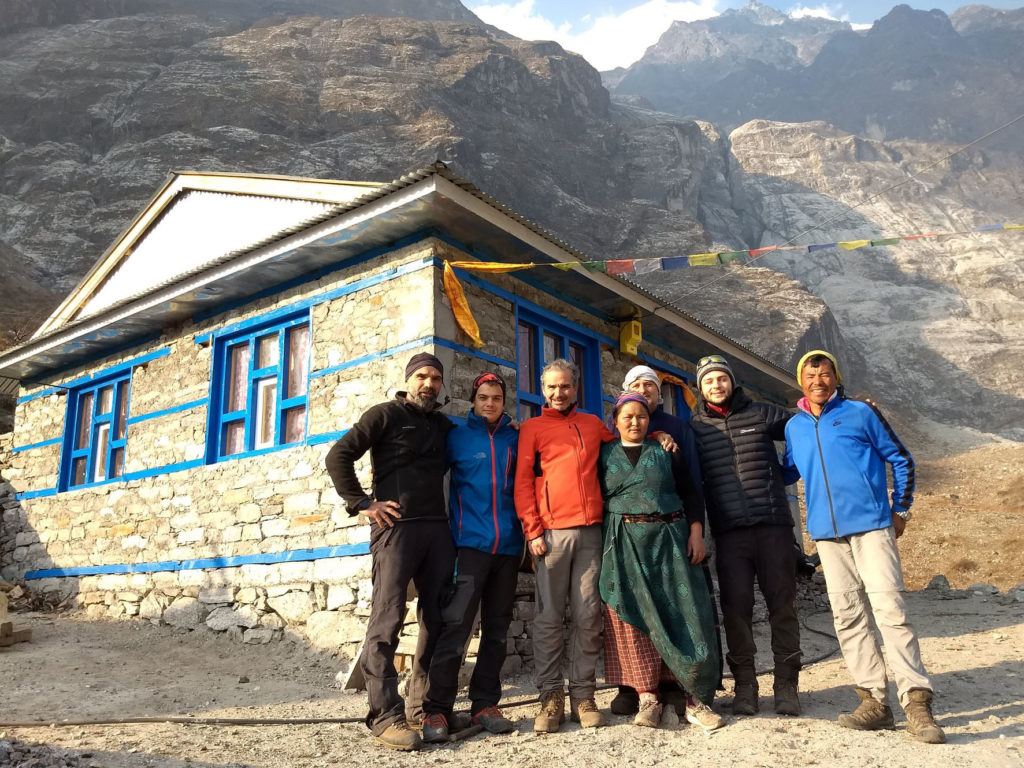 After having built the house of Karchung and Lhakpa, we are now back together with Julé and Namasté with the construction of the house for Pemba Choeden. She is 37 years old and lives in Mundu in the Langtang area.
An earthquake in 2013 took her husband away. She managed to rebuild the humble house where she lived with her 6 children and her mother, but during the earthquake of 2015 she lost her mother and sister, as well as destroying her house again. Now her children are studying in Kathmandu with the help of foreign sponsors and Pemba is raising her sister's children.
Julè & Namasté are going to finance the construction of their new earthquake-proof house with several rooms to be able to welcome tourists and have an extra income.
The work was to begin in 2019, but Pemba had an emergency operation and had to be postponed until this year 2020, and now due to the isolation by the Coronavirus the workers have not been able to go up to Kyangin Gumpa to begin the work. But all the materials are already up there and as soon as the possibility exists it will be carried out.
Thanks again to our Italian friends without whom we would not be able to carry out these projects.
Rebuilding a cabin at 4,500m altitude enabled to make yak cheese in season.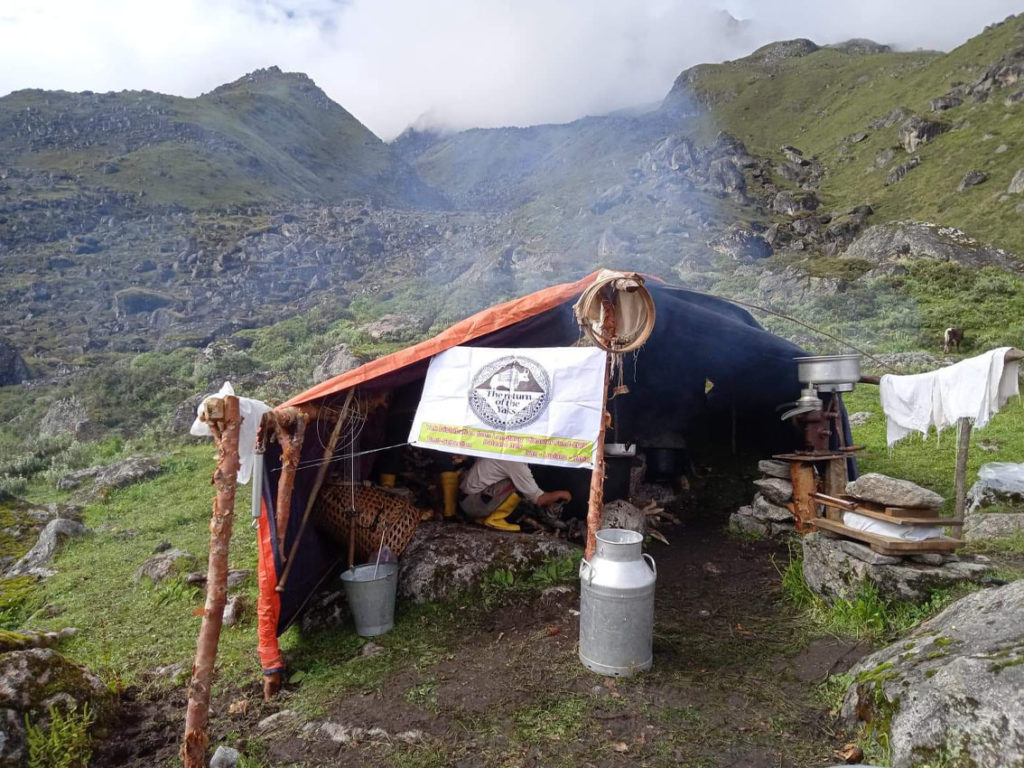 The 2015 earthquake also destroyed a cheese factory at Yala Peak base camp, at an altitude of 4,600m.
The small Yala Cheese Factory was created at the same time as the Kyangin factory, and was very useful for the shepherds and workers in the area.
The shepherds of the Himalayas are nomads. During the summer they go up to the mountains with the Yaks and when the winter approaches they go down the valley with their animals. The Yaks are mountain animals, very hairy and do not stand the heat well. But during the winter they have to go down to look for food, since in the mountain there is a lot of snow. It is difficult even to find water since everything is frozen.
So they spend half the year in the mountains, moving around in what they call Khadkas (temporary base camp where they stay until the vegetation is gone for the yaks).
1. Numthang Khadka
2. Chadang Khadka
3. Yala Khadka
4. Langshisha Khadka
Yala Khadka would be half of all those Khadkas, so the small cheese factory was located there, facilitating the transport of milk. Since it does not exist, the workers have to walk down for 4 or 5 hours carrying the milk on their backs until they reach Kyanjin Gumpa.
Apart from the 4 hours of walking, they have to add the time they have the milk stored until they have enough to bring it down to Kyangin and as the hours go by, the milk often gets bad. So the shepherds lose the day, the milk and the money. That is why it is essential to be able to make the cheese directly at Yala Factory and bring it down later, as it was done before.
During the years after the earthquake they could not work, since almost all the Yaks had died and the factories were destroyed. It was a ruin for them. A couple of years ago a Japanese NGO contributed some yaks, and last year Julé & Namasté contributed some more… Now the first factory is up and running and the only thing left to do is to rebuild this second one so that everything will start working as before and the people who work in this will start to have benefits from their hard work.
Other utilities of Yala Cheese Factory:
– For the porters who go with the climbers who climb to the top of Yala Peak (5,520m) they used it as a warm shelter where they could spend the night and store material. The cheese workers leave blankets and mattresses there all year round. Right now the porters have to go down to Kyanjin to spend the night. It is a waste of money, time and energy for them, so they are very grateful to be able to stay at Yala Cheese Factory.
– Once a year the people of the Valley climb to the top of the Tserko Ri (5,000m). They call it Tserko Ri Party. The whole village brings their prepared food and they go up dancing, singing and laughing. Once at the top they change the Tibetan prayer flags and pray to nature, to the mountains, with their typical rituals. There they climb also important monks and Lamas. In the afternoon the old people and the families that go up with children go down to the Yala Refuge where they spend the night. And the young people, who have more energy, would go down to Kyajin that same night.
– Also many tourists went up there to spend the night, as you can enjoy a spectacular view of mountains like Yala Peak 5,520m, Gangchenpo 6,387m, Dorje Lhakpa 6,966m, Langshisha Ri 6,427m and more…
Conclusion- As you can see they just need a little push to get everything up and running. This project affects many families and would ensure that they could maintain this nomadic lifestyle for many years.
To live a unique experience of collaboration and interaction with local families.
People who come up to Langtang as volunteers have to be willing to do rather physical and basic work. Help carry goods, accompany donkeys to distribute food, carry stones and wood, work in the garden, collect firewood from long distances… and adapt to the conditions of living at altitude and in the mountains without too many comforts.
They must also understand that even though they will spend less than a tourist, they must still pay for their food and stay, since the people they are going to help carry their food on their backs for several days and have no other income than what the visitors can give them. (15 euros/day seems very reasonable to us).
From Mendo Family we will help the volunteer with the organization of the trip, and once in Langtang we will facilitate the first contacts with the families that may need it the most…
These would be specially indicated for those people who, apart from helping, like the mountains and want to know the traditional daily life of a Himalayan village. This is a unique experience of living with the local people, so that they can create bonds for the future beyond the days that the volunteer work may last.
Langtang is a natural place surrounded by spectacular mountains. You should not miss the opportunity to do some trekking in the surroundings and go up to see a glacier or a nearby peak.
To see more details about the actions carried out in Langtang